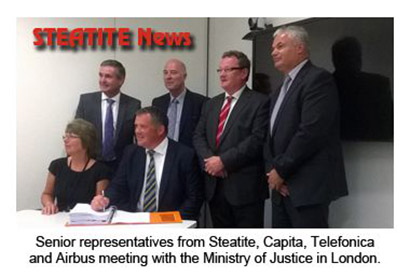 Further to the announcement on 15 July 2014 by parent company SolidState plc (AIM: SSP), Steatite has now
finalised contract terms with the Ministry of Justice (MoJ) to supply monitoring hardware for GPS offender tagging. 
The contract for the supply of monitoring hardware is expected to havea value of approximately £34 million  over the three year minimum contract period.
It is anticipated that Steatite will be supplying initial products to the MoJ by the calendar year end. Quantities to be delivered are then expected to progressively increase over the contract term.
The contract is not expected to have a significant impact in the current financial year as most deliveries are expected to take place in financial years ending 31 March 2016 and 2017.The final deliveries will fall in the first half of financial year ending 31 March 2018 that the  gross margins  on the contract will be in line with the gross margins normally achieved by Steatite on its larger contracts.
Commenting on the contract award, Gary Marsh, Chief Executive of Solid State, said: 
"This is a landmark contract for the Group and our largest to date. It marks the culmination of three years development work by Steatite and suitably illustrates the scale and complexity of the contracts that we are increasingly tendering for.  I would like to congratulate John Lavery and his team for securing this high profile contract."

Scott Bannerman, Executive Director of BRR Media, interviews John Lavery, Managing Director of Steatite Limited regarding the MoJ Contract.