Events & Exhibitions
All the latest information on upcoming Steatite exhibitions and events…….
The Southern Manufacturing Show
Stand No E65
11th – 13th February 2020
Farnborough International, Farnborough, Hampshire
Southern Manufacturing & Electronics is without doubt one of the most important and popular engineering shows in the UK calendar. From modest beginnings as a regional event, it has evolved into a fully-fledged national show, with increasing influence across continental Europe and further afield.
​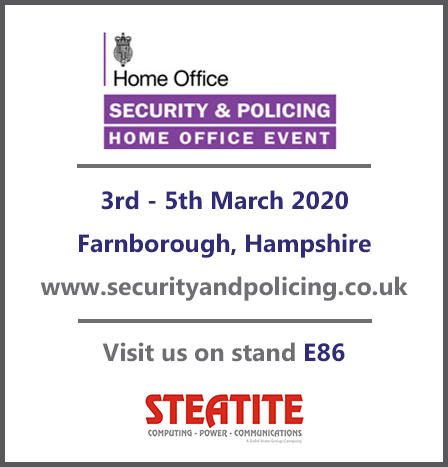 Security & Policing
Stand No E86
3rd – 5th March 2020
Farnborough International & Conference Centre, Farnborough, Hampshire
Established over 30 years ago and having a global influence, this Home Office event is the corner-stone of the security calendar and is the only 'closed' event of its kind. It is the premier platform for relevant UK suppliers to showcase the very latest equipment, training and support, to police services, Government departments, organisations and agencies from the UK and overseas. A key focus is to demonstrate the opportunities presented by innovative cutting edge technology.
​
Oceanology International 2020
Stand No L150
17th – 19th March 2020
Excel exhibition centre, London
Oceanology International is the world's largest ocean technology exhibition and conference. Attracting over 8,000 attendees, it is a must-attend event for those involved in exploring, monitoring, developing or protecting the world's oceans, from seabed to surface and beyond. As the UK's largest producer of custom engineered lithium battery packs, we will be demonstrating our extensive battery pack know-how within the oceanographic and marine sector.
​
Battery Tech Expo 2020
Stand No TBC
26th March 2020
The Wing, Silverstone
The Battery Tech expo provides a unique opportunity to showcase the latest products, technologies and services covering the Battery Management Systems, EV Battery, Battery Storage, Battery Development/ Discovery, Commercial and Mobile Power Device sectors.
​